By Steve & Frances Orton and Joy Ercanbrack
"Walking in their Shoes" was designated as the theme for the 2014 Joseph Smith Sr. and Lucy Mack Smith Family Reunion. The family gained a deeper respect for our ancestors who lived in the Independence, Missouri area as we toured Far West, Adam-ondi-Ahman, and the sacred Liberty Jail. We learned that God does not abandon us, just as he did not abandon Joseph and Hyrum when they were unjustly imprisoned in the Liberty Jail. Truth does prevail and the mercies of God will be revealed.
The opening meeting was held in the beautiful Community of Christ Stone Church on Thursday, July 31. Dan Larsen welcomed the family to the Kansas City area. Lach Mackay read a welcome letter to the family from Cousin Wallace B. Smith who was recovering from surgery. Steve and Frances Orton presented a history of past reunions and family events and discussed how this reunions activities would go. Reports were given by Bob Smith from Samuel's family and the iDig project. Phillip Beem discussed the family website and passed on information from Michael Kennedy. Daniel Adams shared the hopes and interests of upcoming events the Joseph Smith Sr. and Lucy Mack Smith Family Association are working on.
The highlight of the evening was hear the memories of Anina Mackay Luff as she reflected on the early reunions and said as she looked in the eyes of newly discovered cousins, she could see the eyes of her family. To end Thursday night's meeting Joy Ercanbrack introduced our theme of "Walking in their Shoes" and then honored those family members who attended the 1973 Independence Reunion.
Friday, the family was thrilled to tour the many historical places in Independence. With the help and direction of Lach Mackay and Anina Mackay Luff we were able to visit Fred M. Smith's Study, the Flournoy Home, Tours of Community of Christ Temple, and the LDS Independence Visitors' Center.
In the afternoon, a wonderful picnic lunch was taken care of with the work of Bob Smith and Samuel H. Smith Family. It was fun to have time to gather and be in each other's company sharing old memories and building new ones.
Saturday morning, Richard G. Moore shared insights on the strength of Emma Smith. We gained a great respect for Joseph Smith III from the historical sketch given by Lach Mackay. A recorded message of unity of friendship was given by Elder M. Russell Ballard.
Saturday, a wreath was placed during a family memorial at the Mound Grove Cemetery. Dan Larsen welcomed the group and Fred Larsen gave a family message and tribute. The beautiful flowers were placed by Anina Mackay Luff and Christin Mackay. The setting was lovely and a spirit of peace was present.
The family held a banquet at the Conference Center of the Remnant Church of Jesus Christ of Latter-day Saints were Fred Larsen spoke to the family. We gave new shoes to the women of the Mother's Refuge, a women's shelter that were temporarily staying at the Conference Center because their group home burned down. With the shoes we gave them this note: "Years ago our family members who lived in this area had to leave their homes with little in hand. Most were mothers of small children. This history prompted the idea of sharing a new pair of shoes with mothers like yourself. This gift comes with so much love. We admire your courage and pray you will have hope to help you endure this time and have successful families. May God bless and keep you." A check was also donated from our family to help them with their rebuilding efforts.
Activities just for the Smith youth were held on Saturday. Youth ages 3 to 19 remembered Smith family stories in creative ways.
Younger children first met with "Grandma Lucy" portrayed by Renee Park who taught them about her family history and events of the restoration. They learned she painted tablecloths and other linens to help support their large family. The children were able to color a keepsake pillowcase with three quilt blocks stars named for three states where the Smiths had lived Ohio, Missouri, and Illinois. The top of the pillowcase was printed with the words:
"Smith, our family is a patchwork of love."
Following the theme "Walking in their Shoes" each teenager brought a pair of canvas sneakers. Using fabric markers we drew icons on the shoes to represent important events and places to the Smith family. For example three trees helped us remember Joseph's experience in the Sacred Grove and a ship for our Smith ancestor who sailed on the Mayflower. Other icons included lilacs, a wagon wheel, and the Book of Mormon. We discussed the value of empathy and how picturing yourself in another's shoes fills you with compassion and perspective for their place in history.
Everyone at the reunion was given of new pair of shoelaces which represents a real connection to our Smith history with the challenge to remember our family ties whenever you lace up your shoes.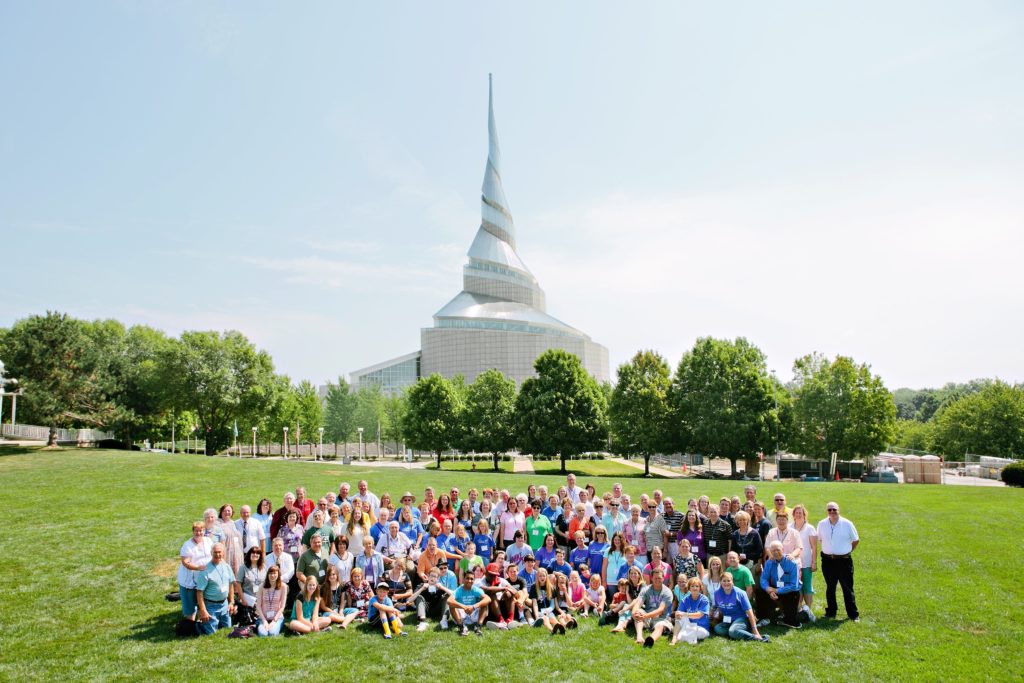 The family picture was taken on the Church of Christ Temple Lot commemorating 183 years since the temple lot was dedicated on August 3, 1831 by Joseph Smith, Jr.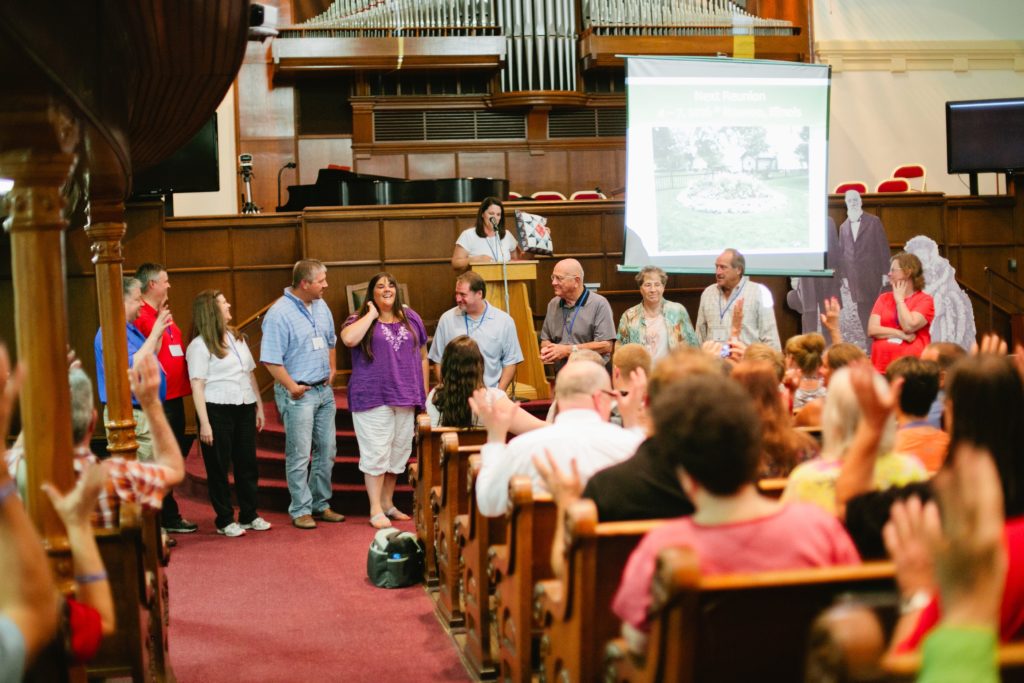 Joy Ercanbrack explaining the hand quilted Missouri star pillows given to honor those who attended the 1973 Joseph Smith Sr. Independence Missouri Reunion: l to r – Bob Smith, Daniel Patrick, Frances Orton, Eric Larsen, Amanda Larsen Oney, Lach Mackay, Fred Larsen, Anina Luff, Daniel Larsen, and Andrea Black inside Community of Christ Stone Church.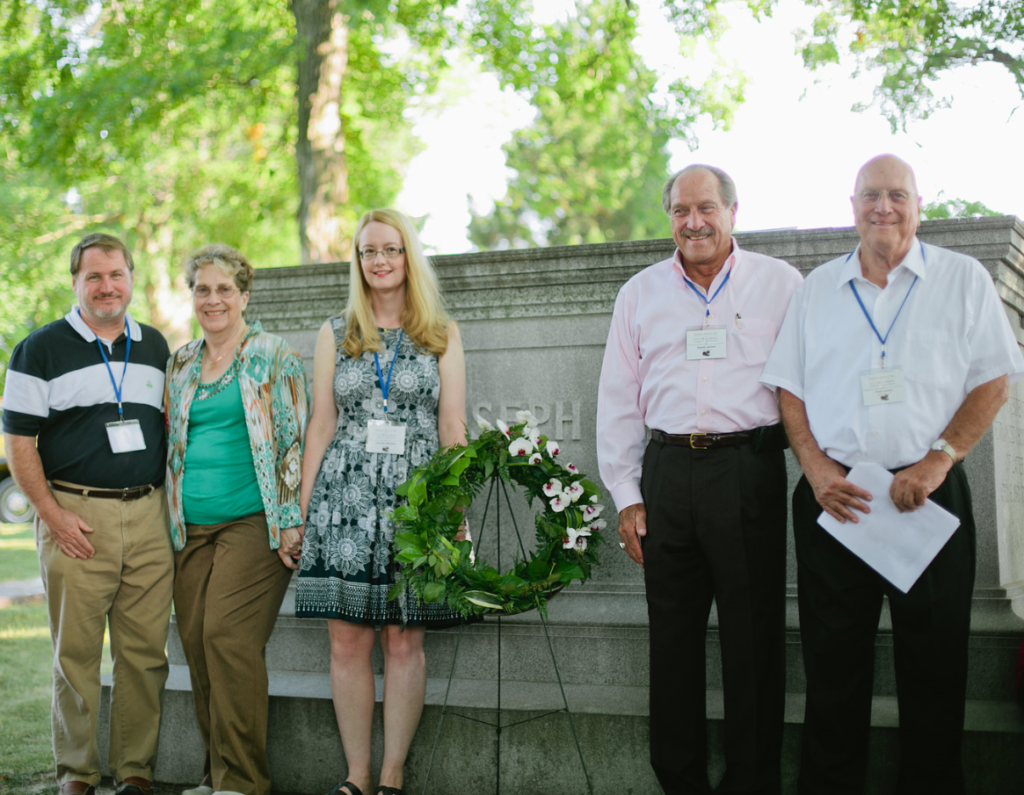 Lach Mackay, Anina Luff, Christin Mackay, Daniel Larsen, and Fred Larsen presenting a family wreath memorial at the Smith Family graves at the Mound Grove Cemetery in Independence, Missouri.
---
Memories by Anina Luff
Joseph Smith Jr Family for Reunion Report
SISTER EMMA SMITH
Lach Mackay's talk on Joseph Smith III
President Fred Larsen's talk on Saturday night
Mary Duty Smith Pocket instructions
2014 Joseph Smith Sr. Reunion Highlights